Titania



Planet of Origin

Discoverer

William Herschel

Date of Discovery

January 11, 1787

Surface Color

Grey

Alternate Names

Uranus III
Titania, also known as Uranus III, is a natural satellite of the outer planet, Uranus. Titania was discovered on January 11, 1787 by astronomer William Herschel.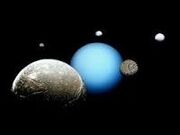 Surface Features
Edit
The surface of Titania is slightly smooth, but has a few craters. It is the largest out of the Uranian moons.
Ad blocker interference detected!
Wikia is a free-to-use site that makes money from advertising. We have a modified experience for viewers using ad blockers

Wikia is not accessible if you've made further modifications. Remove the custom ad blocker rule(s) and the page will load as expected.